Retirement Quotes for Teachers: Teacher plays a vital role in shaping ones career. When they are ready to retire. Children as well as parents would acknowledge them for their services. They would bid them farewell with retirement gifts, retirement wishes, and retirement quotes.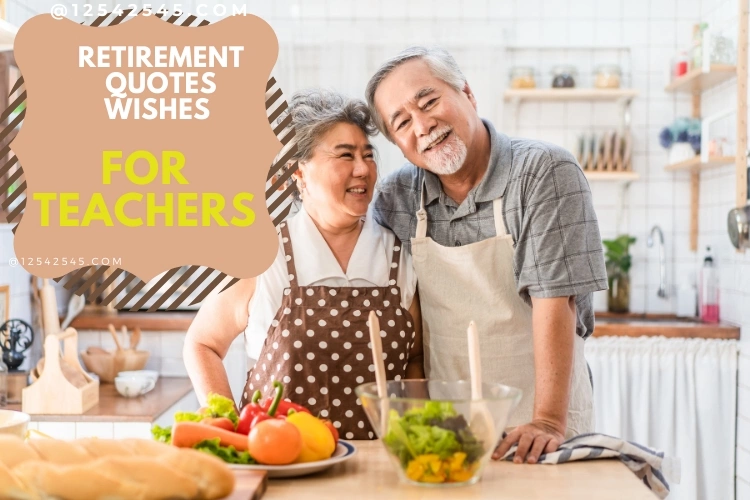 Writing sentimental retirement quotes for a teacher is a wonderful idea. In the following post with a variety of retirement wishes, quotes, and messages, you won't be out of ideas. Scroll down to view them all.
Retirement Quotes for Teachers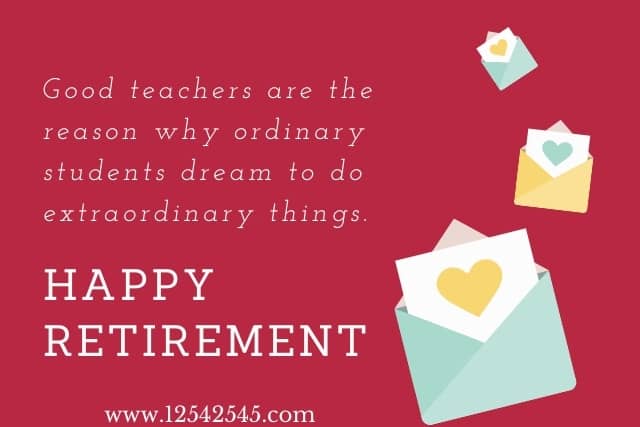 Good teachers are the reason why ordinary students dream to do extraordinary things. Wish you a happy retirement.
Dear Teacher, You have done so much for us. Wishing you nothing but the very best in retirement. Congratulations!
Nobody can truly say goodbye to an exceptional teacher like you, as you'll forever be in our hearts. Happy retirement!
Welcome to your freedom, where you're free from us, students. Have fun. Happy retirement!
I am grateful to have had such an excellent teacher in my life. Wishing you the best in this new chapter of your life. Happy retirement!
Books don't teach lessons about life, but teachers like you do. Heartfelt gratitude for your kindness, wisdom, and positivity. Your encouragement helped me to reach my full potential. Congratulations on your retirement.
The best teachers teach by example rather than just with words. You are one such teacher. Thank you for being you and showing us the way. Congratulations on your retirement.
We were fortunate to have you as our teacher, mentor, and enthusiast. You are an inspiration with your guidance, patience, and inspirational speeches. Congratulations on your well-earned retirement.
Teachers make a very small salary; they earn a lot of respect for the quality of their knowledge and education. Thank you for sharing your knowledge and wisdom with us. Wishing you a happy retirement!
It was inevitable that this day would come, but we are happy for you no matter what. Our hearts are heavy today. We miss you because you were the best teacher we ever had. Your absence would be felt throughout our school. Wishing you a fantastic retirement.
Being taught by you was truly a blessing. We appreciate everything you've done for us. Whether big or small, nothing was overlooked. Enjoy your retirement. It was well deserved!
You are infinitely patient, motivated, and wise. Without you, I wouldn't be the proud person I am today! Enjoy your much-deserved retirement.
You are about to discover a world full of endless possibilities and beauty. Have fun out there! Safe travels and a happy retirement dear teacher!
You are an inspiration. Your teaching skills are exceptional. Your leadership achievements are impressive. Wishing you a happy retirement!
We appreciate everything you did for us! Your patience, motivation, and persistence helped us become better people. Congratulations on your retirement!
We are truly blessed to be among your students. We will truly miss you and your teaching skills! We wish you many years of good health and fun in retirement!
Dear teacher… education is one thing, but you gave us much more. With inspiration beyond limits, you helped us rise and soar.
Dear Teacher. Sincerely, thank you for all your wisdom and kindness. Have a wonderful retirement.
Your new adventure begins here. You can visit all the places where you taught in the past. Enjoy every minute of it. Best wishes as you retire!
Your retirement is not just a loss for you, but also for the nation. Teachers like you are a real asset to the nation who turn ordinary students into outstanding citizens.
Your teachings will remain treasured in our hearts for all time, and your contribution to humankind can never be measured. Congratulations on your retirement.
You will be remembered for a long time. All of the things you said were awesome and erudite. Every day, you strived to inspire others. The memories of your contributions will last long even after you retire. We'll miss you.
Your retirement is a reward for the patience and tolerance you displayed by dealing with annoying students for your entire career. Congratulations.
Successful teachers are effective in spite of the psychological theories they suffer under.
Teachers make the world a better place
The influence of a good teacher can never be erased.
It takes a big heart to teach little minds
Now is the time to look back on all the years spent in the classroom. Also, now is the time to make plans for the future. Now that a successful and long career has come to an end. Wishing you many years of happiness in retirement!
Your dedication to improving young lives is inspiring. Your students will forever remember you as a caring and energetic teacher. As you plan for the future and embark on many new adventures. I wish you a long and prosperous retirement
Emotional Retirement Wishes for Teacher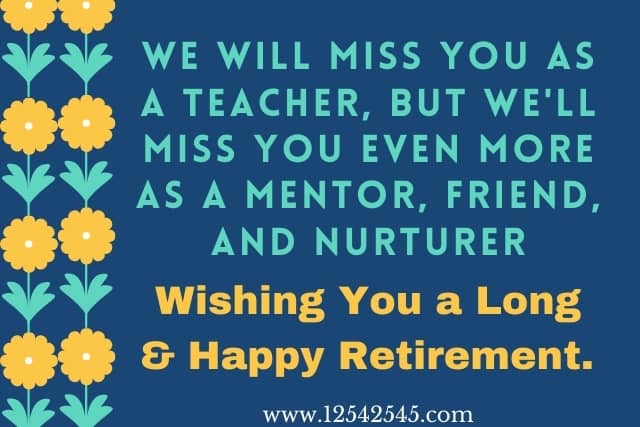 While you spend what is likely your last moment in school today, I can't thank destiny enough for sending me such an amazing teacher.
We will miss you as a teacher, but we'll miss you even more as a mentor, friend, and nurturer. Wishing you a long and happy retirement.
Walking through the hallways of the school when you are leaving. You will hear each nook and cranny sadly saying, "We'll miss you".
Even though we're celebrating your retirement today, there is one thing we can't do despite the fanfare – wipe away the tears.
I am grateful for your assistance in helping me to accomplish my goals and overcome the obstacles that arise. You deserve a big congratulations on your retirement!
You are the kind of teacher who can inspire students even in your absence. Your absence will be greatly missed. Nevertheless, we will always appreciate your service. Enjoy your retirement!
The deeds and teachings of every great teacher remain forever imprinted in the hearts of their students even after they retire. Happy retirement, and best wishes for the future.
Your retirement may see you leaving the school, but your legacy will live on in the hearts of your former students forever. Until next time. Happy Retirement dear teacher!
With heavy hearts, as we say you goodbye today, we are forever grateful for the joy you have brought us and the knowledge you have provided.
Teachers like you can never really retire. Even if you don't come to school anymore, you will continue to inspire kids like us. Happy retirement.
Ohne you, the walls of the school will feel hollow, the corridors will be empty, and the classrooms will feel lifeless.
It's not just that you're retiring from teaching. With your retirement, you are retiring from one of the world's most important jobs – helping young minds dream big. Goodbye.
Retirement Quotes for Teachers by Famous Authors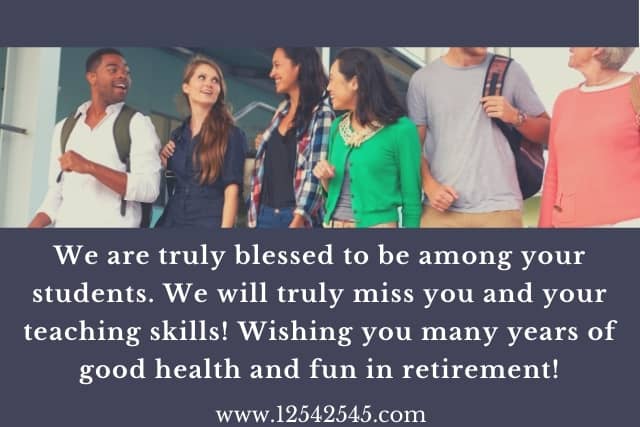 Teaching is the profession that teaches all other professions – Unknown
What the teacher is more important than what he teaches. – Karl Menninger
A master can tell you what he expects of you. A teacher, though, awakens your own expectations. – Patricia Neal
I like a teacher who gives you something to take home to think about besides homework. – Lily Tomlin
The object of teaching a child is to enable him to get along without his teacher. – Elbert Hubbard
The teacher who is indeed wise does not bid you to enter the house of his wisdom but rather leads you to the threshold of your mind. – Kahlik Gibran
Teaching kids to count is fine, but teaching them what counts is best" – Bob Talbert
A teacher affects eternity; he can never tell where his influence stops – Henry Brooks Adams
A teacher is one who makes two ideas grow where only one grew before. – Elbert Hubbard
The best teacher lodges an intent not in the mind but in the heart. – Anne Michaels
The mediocre teacher tells. The good teacher explains. The superior teacher demonstrates. The great teacher inspires. – William Arthur Ward.
The greatest sign of success for a teacher is to be able to say, 'The children are now working as if I did not exist.' – Maria Montessori
Old teachers never die: they just grade away. – Anonymous
Being a teacher is an essential connection between what is and what cab be. – Teresa Thayer Snyder
Teaching is the greatest act of optimism. – Colleen Wilcox.
One child, one teacher, one book, and one pen can change the world. – Malala Yousafzai.
A well-educated mind will always have more questions than answers. – Helen Keller
The true teacher defends his pupils against his own personal influence. He inspires self-trust. He guides their eyes from himself to the spirit that quickens him. He will have no disciples. – Amos Bronson Alcott
The world is changed by your example not by your opinion. – Paulo Coelho.
The splendid thing about education is that everyone wants it. Like influenza, you can give it away without losing any of it yourself. –Evelyn Waugh
The dream begins with a teacher who believes in you, who tugs and pushes and leads you to the next plateau, sometimes poking you with a sharp stick called 'truth'.- Dan Rather
A good teacher can inspire hope, ignite the imagination, and instill a love of learning." – Brad Henry
The teacher is the one who gets the most out of the lessons, and the true teacher is the learner.- Elbert Hubbard
I cannot emphasize enough the importance of a good teacher. – Temple Grandin
The test of a good teacher is not how many questions he can ask his pupils that they will answer readily, but how many questions he inspires them to ask him which he finds it hard to answer. – Alice Rollins
Education is for improving the lives of others and for leaving your community and world better than you found it. – Marian Wright
Education is what survives when what has been learned is forgotten – BF Skinner
Read More:
Related Searches:
tribute to a retiring teacher
how to honor a retiring teacher
retirement wishes for principal
teacher retirement quotes funny
words to honor a retiring teacher
thank you letter to retiring teacher
sample tribute to a retiring teacher
retirement wishes for teacher colleagues
retirement quotes for teachers in english