Having a sister is a blessed feeling, that can't ever be expressed in words. She is our favourite enemy, without whom our survival is impossible. Not even a single day goes without fighting or arguing with her. But that is not what matters. What matters is our love and concern towards her. However, you might have a hard time telling her how important she is to you on ordinary days but birthdays are an exception. Therefore, we have come up with an amazing collection of best birthday wishes to your sister. So, choose one, send it to your sister and make her feel loved!
Happy Birthday Wishes for Sister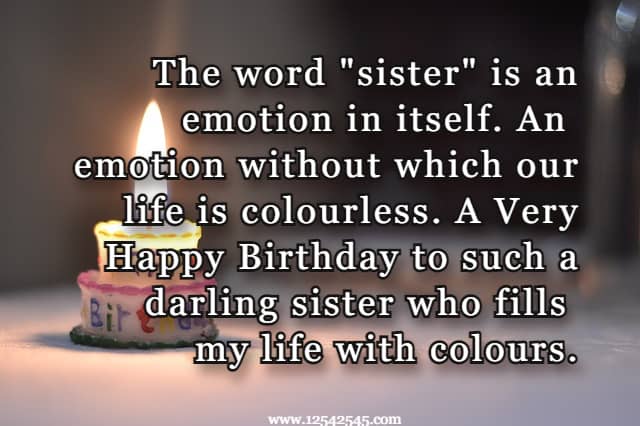 The word "sister" is an emotion in itself. An emotion without which our life is colourless. A very happy birthday to such a darling sister who fills my life with colours. On your birthday, I wish the greatest for you!
Dear sister, you have been a best friend and a mother to me, both. Thank you for always directing me towards the right track and listening to my nonsense talks. Happy birthday, sister. I wish you a content life ahead!
You are the luckiest sister in the universe since you have a brother like me. Haha, kidding! I am grateful to Almighty for making me born as a brother to a marvelous sister like you. Happy birthday, have a blast!
To my darling sister, you are such a godsend to my life. You support me like no one else. I can't imagine how my life would have been without you. Happy birthday to my ultimate support system, I love you!
I am lucky to have been able to share the beautiful memories of my childhood with you, sister. Because of you, my childhood became a little more enjoyable and worth remembering. Happy birthday and keep smiling, it looks pretty on you!
To my beloved sister, I take pride in being born as a brother to you. I could not have gotten a better sister than you. Thank you for always bearing my lame jokes and encouraging me to do better in life. Happiest birthday!
To my secret-keeper, I would want you to know that you are the best! As we celebrate your big day today, I wish you a future filled with happiness and a lot of brilliant opportunities to succeed. Happy birthday, sister!
Happy Birthday Wishes for Elder Sister
Having a sister is such a delight, especially when someone has an elder sister like you. You have been my forever go-to person, in my good as well as bad times. I wish all your heartfelt desires come true. Happy birthday!
Sister, you are just like a mother to me. You protect me, you support me, you inspire me, you encourage me and above all, you love me unconditionally. Wishing a very happy birthday to my magnificent sister, I love you!
Dear sister, thanks for always saving me from daddy's scolding and treating me with my favourite chocolates. Trust me, you are the perfect sister that one could ever get. Happy birthday, gear up for a grand birthday celebration!
Being an elder sister, you have taught me the importance of determination and dedication in one's life. You are someone whom I consider as my ideal and I aspire to become like you in the coming future. Happy birthday!
With each passing birthday of yours, you are becoming more wise, more strong, more gracious and of course, more beautiful. On your special day, I wish that you continue to shine in every field as you do. Happy birthday, sister!
To an elder sister who has always helped me in completing my assignments and gave me some important life lessons, I love you the most. Happy birthday and thank you for always being such a great company to me.
Being your younger sister, I love stealing clothes from your wardrobe and guess what? Your clothes look way better on me. Haha, jokes apart! Sister, I love you and thank you for always supporting me. Happy birthday, let's party together!
Happy Birthday Wishes for Younger Sister
It is hard to believe that my little sister is not-so-little anymore. I feel happy to be a part of your beautiful journey from being a kid to being an adult. Happy birthday, I wish a bright future for you!
On this day, a little angel was born in our family, to whom I am a brother. No one can ever be luckier than me. Wishing you a very happy birthday, may you get what all your heart desires!
Hey sister! How are you doing? It is the first time that you are away from home on your birthday. I wish you were here with us. Okay, so not making you emotional anymore, I wish you a very happy birthday!
Dear baby sister, how much I love you can't ever be explained in words. To me, you are the world's best gift from God. And yes, I love irritating you a lot by pulling your cheeks. Happy birthday, the cutest!
Before you were born, I always wished for a cute little sister from God and he actually listened to my prayers by making you born as my sister. On your birthday, I wish you worldwide happiness and success. Happy birthday!
I'm lucky enough to experience how good does it feel to have a little sister, who keeps on annoying you but love you at the same time. To such a sister, I wish good health and a great life ahead. Happy birthday!
Though you are younger than me, but you have taught me the importance of being humble to others. I love the fact that how sensible you are at such a young age. Happy birthday to my precious sister, I love you!
Does not matter if you have an elder sister or a younger sister, these birthday wishes are something that your sister is going to love. So, make her birthday memorable with this meaningful collection of birthday wishes.
Also Read:
Related Searches
heart touching birthday wishes for sister
sister birthday status
birthday wishes for younger sister
happy birthday wishes for sister-in-law
emotional birthday wishes for sister
deep birthday wishes for sister
sister birthday wishes in hindi
birthday wishes for sister from another mother