Looking forward to sharing funny wedding wishes, whether it is for a sibling, friend or a close family member. We've got you covered. The following blog post contains a collection of hilarious funny wedding wishes for newlyweds as well as funny marriage wishes for newly married couple. Shareable on all social media websites like Facebook, Twitter, LinkedIn, Whatsapp, Instagram, and more. Please scroll down to view them all.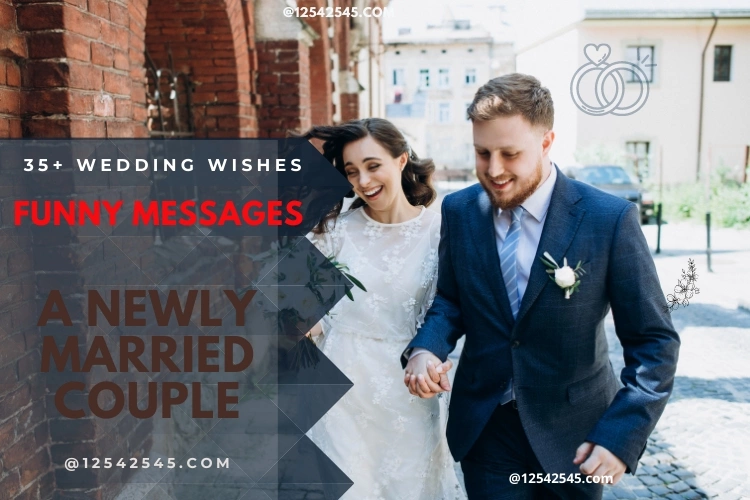 Funny Wedding Wishes for Newlyweds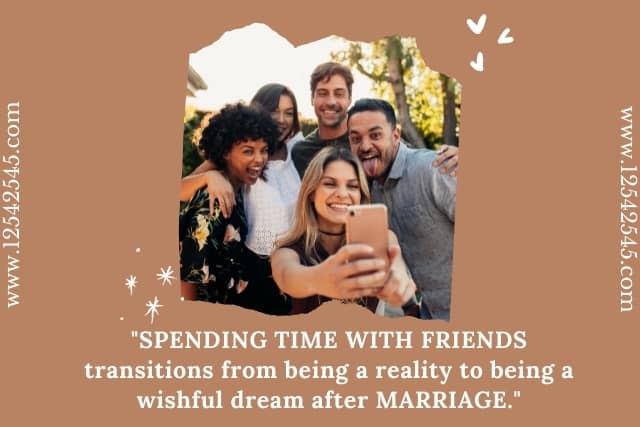 Marriage is the end of a love story and the beginning of a wrestling match. Anyway, wishing you all the best.
Keep your eyes wide open at all times in life. Nevertheless, it's best to shut them after marriage! Congratulations and best of luck!
Congratulations on your wedding today, and here's my advice for the newlyweds: keep it up! The best is yet to come!
Wedding decisions are the only ones you have to make, so make them wisely!
Isn't jumping in front of a train easier and faster than getting married? I'm just kidding! Best wishes for your wedding
Before you got married, you both were deeply in love. However, now you will be furious at each other.
Your wife is a perfect match for you. Shadowing your flaws and highlighting your strengths is her way of making you shine. We now know why you decided to get married. Congrats.
SPENDING TIME WITH FRIENDS transitions from being a reality to being a wishful dream after marriage.
Fun in bed before marriage. Fights in bed after marriage.
Best wishes for a happy marriage - However, I find it ironic how the most love-fueled cuddles become the most anger-driven arguments.
It is okay to marry; if you find a good wife, you will be happy, if you find a bad one, you will become a philosopher.
You must just agree and follow what I say as my husband… It's that easy.
There is always the saying, "If you want love, you have to work for it.". Getting out of bed is easier than loving you!
Funny Wedding Messages for Newly Married Couple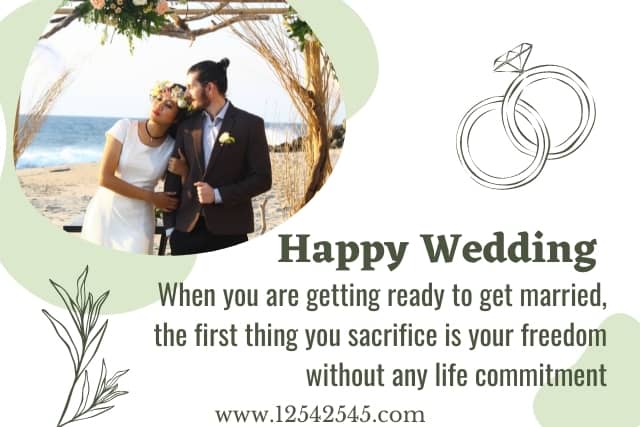 Perhaps you've lived like a lion so far in the circus of life. It's not going to take long for your wife, the new circus master, to tame you into a domesticated cat. Congratulations on your tightrope act.
Wishes and luck will not save you from the painful life of slavery you are about to live as a husband. Nevertheless, congratulations.
Once you get married, you have to learn how to say no when your heart truly wants to speak yes. Congratulations.
Congratulations - you just paid to have a party that will be fondly remembered by a bunch of your loved ones.
You didn't just tie the knot with your wife today; you also wore chains on your legs. Congratulations.
Keeping your family happy isn't easy, so be prepared. Invest your time in it. Congratulations! I wish you all the best on your wedding!
Although you just got married, I'm already excited about seeing your beautiful kids. Congratulations on your wedding, dear newlyweds!
Getting married is like going to prison. Come in and enjoy its seclusion. Congratulations anyway.
When you are getting ready to get married, the first thing you sacrifice is your freedom without any life commitment. Warm up, for there is more to come. Warmest wishes.
Love is a sun that ignites a flower of marriage; it is also a sword that draws the lovebirds into an endless battle. It's still love. Congratulations.
Funny Wedding Greetings for Newly Married Couple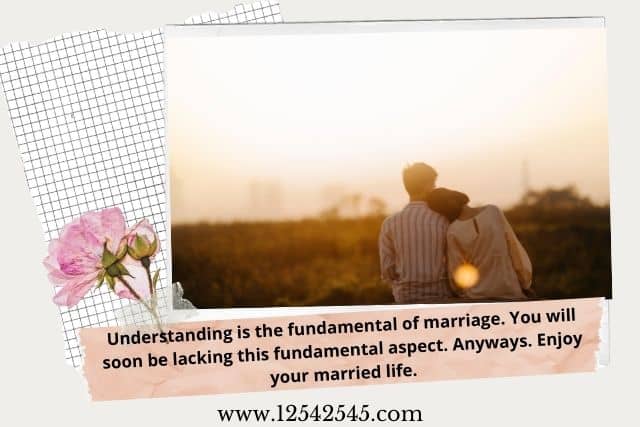 Your eagerness to be together will soon cause you to realize how annoying it is. Congratulations.
You dream of a loving marriage, then you will soon imagine living alone surrounded by the motionless hands of time. It's all in good fun. Have a great wedding.
The beauty of marriage is that you have found that one person you wish to annoy all your life.
Understanding is the fundamental of marriage. You will soon be lacking this fundamental aspect. Enjoy your married life.
Getting married is medicine for blind love. Best wishes for a happy marriage!
You can transfer funds faster through marriage than you can through electronic banking. Congratulations!
Marriages that are happy are built on saying this simple phrase, "Yes Dear."
Congratulate yourself on convincing your lovely bride to settle down with you - Beauty and the Beast.
Your decision to give up your life makes me extremely happy.
Marriage is a give-and-take relationship. The sooner you give it to her, the better, because she's going to take it anyway.
You don't need to be on the same wavelength to succeed in marriage. You just need to be able to ride each other's waves.~ Toni Sciarra Poynter
A successful marriage requires falling in love many times, and always with the same person.~ Mignon McLaughlin
The bonds of matrimony are like any other bonds - they mature slowly.~ Peter De Vries
Read More on Funny Wedding Wishes
Related searches
cute wedding wishes
funny wedding messages
funny wedding wishes poems
funny covid wedding wishes
funny wedding card messages
wedding wishes for cousin funny
funny wedding wishes in marathi
funny wedding wishes during covid